Jan 3, 2003
8,576
0
36
43
I'm 32, have ridden since I was 3, and was very lucky to have my own pony from 5 (we were not well-off but my parents decided feeding our horse addiction would be cheaper in the longterm than running us around various clubs and classes etc, and I think they were right - we did it very much on a budget).
I rode until I was 13, mostly long rides, was aiming for endurance but used to average 30-40 miles on a normal weekend in the summer anyway, out with my dad on his bike (he was an ex racing cyclist). My beloved connemara x was pts when I was 13 with nerve damage in his back and I didn't get another riding pony for over 10 years, I went to driving Shetlands, competed locally in driving trials with single and pair, also drove tandem at home.
As an adult I still have the Shetlands (although I lost my original one, Mac, in the field aged 26 in 2006, we had been together 16 years), I also have Rupert the NF who was my project pony who is now out on longterm loan at the moment and doing fantastically, we have Pablo, our unintentional project horse, who was finally ridden for the first time in 6 years last summer, and we have Alfie who was bought as an antidote to the 'projects' and is a gorgeous bombproof boy.
Here is Alfie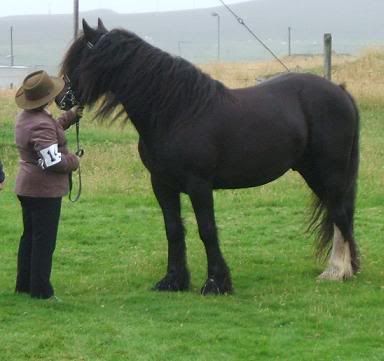 Rupert (and me just about to fall off at 4 months pregnant with Beth
)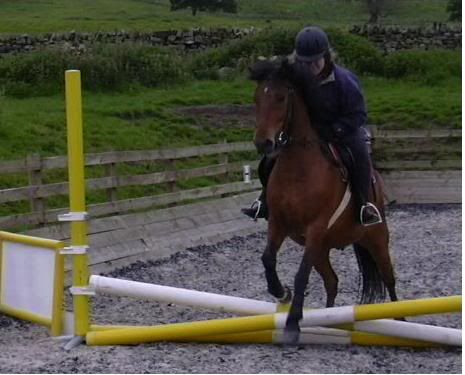 Shetlands (in their prime)
Polo, aged 22 (and very fat
)
We are restoring a croft house on Shetland, have two small girls (Beth, almost 4, and Lucy, 1) 2 cats, a whippet, lots of chickens, three goats, two gerbils and two goldfish!
eta - in 'real life' I am doing a part-time PhD in archaeology.
Last edited: